Welcome To Butterfly Grove Inn
The Butterfly Grove Inn is centrally located on Lighthouse Avenue in Pacific Grove. We are four minutes from historic Downtown Monterey, and within minutes from exciting attractions like 17-mile drive in Carmel, the Monterey Bay Aquarium, Cannery Row, and Fisherman's Wharf. Our location, near the tip of the Monterey Peninsula, is adjacent to the Monarch Butterfly sanctuary. The sanctuary covers 2.4 acres and provides a secure environment for the Monarch Butterflies that winter in the area every year. Additionally, we are near miles of beautiful California coastline. Whether guests want to play golf, go whale watching, relax on the beach or browse an art gallery or a boutique shop, our location makes enjoying the plentiful sights in Monterey California a breeze.
Our quiet Pacific Grove hotel offers on-site amenities to unwind and relax during your coastal getaway. Our guests enjoy special touches like a 100% smoke-free property, large, well-appointed guest rooms, beautifully landscaped grounds, a refreshing unheated pool, a hot tub, complimentary WiFi, and complimentary self-parking. Our pet-friendly hotel also provides tour and ticket assistance for an additional fee.
The Butterfly Grove Inn is an ideal spot to unwind at the end of an exciting day of sightseeing. Our location is adjacent to the Monarch Butterfly sanctuary, and we are a short drive from the stunning coastal views and beaches along Pacific Grove, Lovers Point, and Carmel. Boutique shopping can be found along Lighthouse Avenue, as well as several antique shops. Specialty restaurants and craft breweries are within walking distance of our preferred address. Popular attractions like the Monterey Bay Aquarium, Fisherman's Wharf, Cannery Row, and 17-Mile Drive in Pebble Beach are all nearby. We are minutes from top golf courses, museums, and the Monterey Regional Airport.
Butterfly Grove Inn
Guest Rooms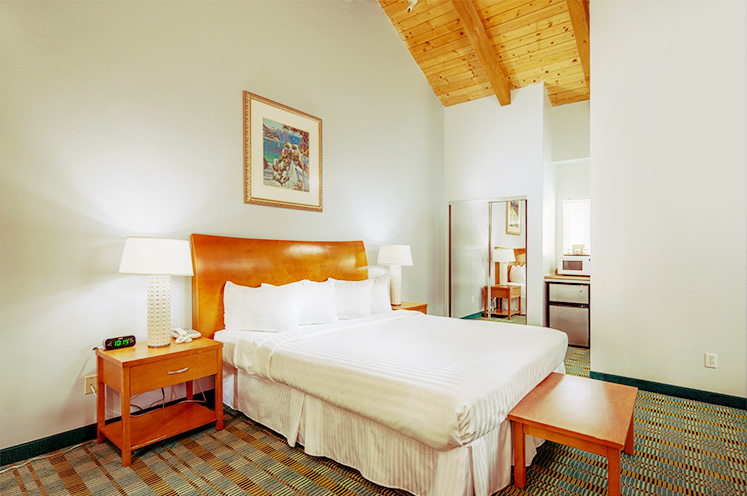 The Butterfly Grove Inn provides a quiet boutique experience to our guests. Our smoke-free rooms are well-appointed and spacious with a selection of deluxe rooms ranging from a king, two queen, and multi-room family suites. Our accessible rooms are equipped with roll-in showers and a host of accessible features. As our guest, you can enjoy upscale amenities and a family-friendly atmosphere.
Our Hotel
Reviews
Fantastic Place To Stay
This was our 1st time holding our family reunion at the butterfly inn. We are a large group of 36 ranging from age 2 to 82 This is a fantastic complex the manager Sid went out of his way to make sure everything was good for our group. The accommodation are nicely done .The pool and hot tub were a...
This Inn had it all - the location was amazing, the rooms were clean and comfortable and the staff was incredibly kind. I would like to highlight that Sid, the general manager, went out of his way to tell us about all of the amazing sights near by. He showed us brochures, described in detail how to...
We traveled with friends who recommended this hotel. We loved our comfortable room and the friendly staff. We were able to leave our car parked and walk to many of the sites we wanted to see. There were lots of cute shops and very good restaurants along Lighthouse Avenue. The sanctuary that is beside...
We chose this hotel because of the location. We fell in love with it because of the staff, service, and beauty of the actual hotel. We enjoyed strolling through the sanctuary, and the park-like setting of the hotel's grounds. Our room was very large, comfortable with lots of natural light when the drapes...